We've had the means for a while, now we have the incentive to crush the data siloes that are holding back voyage optimization.

Like kids in the sandpit, owners and charterers are being forced to share, perhaps more than they really want to. The IMO and the EU, for starters, are setting data-driven decarbonization rules, and those in the sandpit are having to respond.
Ship managers and data analysis specialists are developing technical solutions to boost transparency with the aim of facilitating shared responsibility on CO2 emissions, but it's no easy task. Much of the detail in the EU ETS regulations have yet to be determined, and the new dynamic between shipowner and charterer resulting from the IMO's Carbon Intensity Indicator (CII) is still developing.
There have been attempts to construct data marketplaces, says Dor Raviv, CTO and Co-Founder of Orca AI. However, different solutions require different data elements. "Due to the lack of any reference data sets, innovative technologies are progressing slowly, causing engineers and developers to invest more time and energy to bring forth new products. To allow the industry to keep pace, a new outlook of openness instead of consolidation must be adopted."
Angus Whiston, Communications Director at DeepSea Technologies, says everything has changed with AI. Gradually, shipping companies are starting to see real benefit for the first time. "Let's be honest – in past years, what has been the true benefit of combining reams of high-frequency sensor data with years of weather data, AIS data, port data, etc? Almost without fail, the result of such projects has been internal confusion on a large scale and hundreds of wasted hours."
Speaking at a recent conference, Thomas Zanzinger, CEO of Ocean Technologies Group, warned participants that even if they were not on top of their data, there's a good chance others will be, which could lead to financial and reputational consequences for their businesses. He pointed out that growth in connectivity and the proliferation of application program interfaces is connecting previously disparate data sets.
Image courtesy DeepSea TechnologiesData holds the key to smarter actions but is hard to manage without the support of software, says Pelle Sommansson, Chief Product & AI Officer at ZeroNorth. "Platforms that can break down existing silos and create a single source of truth will be critical to driving efficiencies that generate immediate environmental and commercial impact, as they enhance collaboration and grant stakeholders across different departments access to a shared data reality."
Shipmanager Thome's Executive Vice Chairman Claes Eek Thorstensen highlights that it is always easier to use a single system that comprehensively caters to all aspects of performance monitoring and optimization. However, very few systems are complete and reliable in every aspect. Acquiring, processing, and analyzing real time performance data, in combination with AI, holds significant potential, but performance optimization systems are still maturing.
Part of that maturity involves breaking down data silos built in disparate digital and manual systems. Some third party managers are developing their own solutions. Thome, for example, monitors its managed fleet centrally, with CII ratings dynamically projected based on factors such as hull resistance, weather, engine performance, vessel speed and dwt utilization.
Bernhard Schulte Shipmanagement (BSM) is currently expanding its digital platform to handle EU ETS compliance in a single source dashboard. Anil Jacob, Head of BSM's Fleet Performance Centre, says voyage optimization is one of the most effective ways to improve operational efficiency. AI and machine learning will help improve numeral weather predication models, and developments in Artificial Neural Networking will improve performance models for vessel. This will provide more accurate results for different loading conditions, speeds, or trim. "The more accurate the vessel modelling, the better the voyage optimization result will be."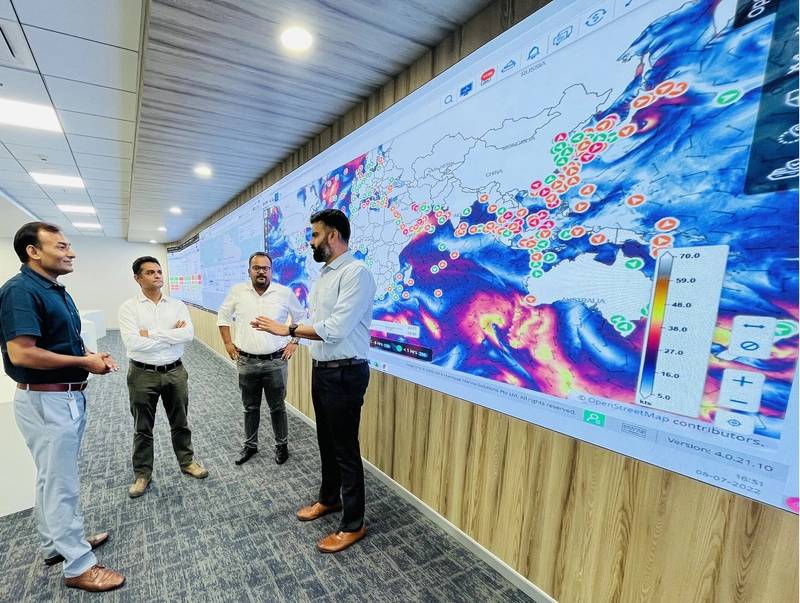 Anil Jacob, Head of BSM's Fleet Performance Centre, says voyage optimization is one of the most effective ways to improve operational efficiency.
Image courtesy BSM
NAPA's new CII tool uses a ship's digital twin, combined with data on its past and current routes and performance, to predict its CII rating for each sea passage. Some requirements vary with ship type, though. For example, NAPA has worked with INPEX to factor in optimization of LNG carriers that are partly fueled by cargo boil-off gas.
Vessel Performance Solutions notes that an LR tanker can reduce its CII rank by 7% just by correcting for cargo discharging and heating. Even though some corrections have a minor impact, they may still be important towards the end of the year when a charterer wants to maintain vessel speed without risking a drop in rank.
But Thomas Hechmann, Growth Director, Coach Solutions, says the major change related to voyage optimization in connection with the implementation of CII has nothing to do with new data or even more data. "The biggest concern is always the right data. Can you trust that the vessel reporting is correct, and how do you validate the data in a smart way in order to avoid a massive workload for operators for manual validation?" Coach is a cloud-based system that can validate manual data collected onboard. It also allows the company to use its own operational and commercial knowledge when considering any optimization factor.
Crews are benefitting. METIS Cyberspace Technology says its AI-powered analytics analyze efficiency onboard and the changing operating environment, providing the officer of the watch with actionable insights and alerts throughout a voyage.
Petter Andersen, SVP Shipping Digital at StormGeo, says qualitative assessments by the crew, operator, and weather routing company are needed to ensure safety, fuel savings and emissions reductions. "Machine learning and AI can continuously improve how we predict the effect of winds and waves on the vessel's speed. However, having the right technology is only the first step."
Looking beyond crew, owner and charterer, Arnaud Dianoux, Founder and Managing Director of Opsealog, is calling for a data democracy. "There is definitely a need for greater data sharing and integration in the maritime sector, but also along supply chains more broadly," he says. "Greater collaboration also needs to happen between the different providers of digital solutions that act as suppliers for a given ship or company, to ensure seamless data integration. No single digital solution can achieve everything, so instead of looking for a silver bullet, shipping should aim to create a digital ecosystem."
Looks like a new crowd just jumped in the sandpit.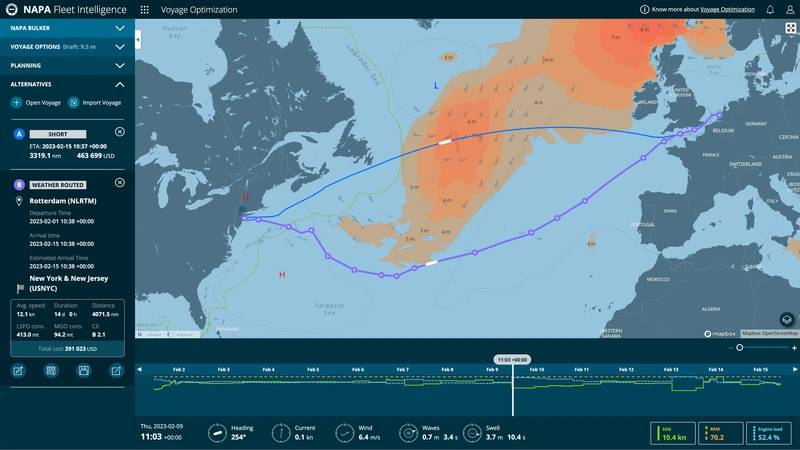 Image courtesy Napa
maritime professional